Summer is coming and the sea is calling. Explore and see the beauty of the Philippine islands (7641 at the last count) with TravelBookPH!
TravelBook.ph, the leading local hotel booking website in the Philippines, is turning four!
In celebration of four exciting years in the business, TravelBook.ph encourages every Juan to discover and visit the exquisite islands of the Philippines. Check out the promos and treats on our anniversary!
It's a Birthday Treat!

Birthdays in the Philippines means giving everyone a treat. Now I say that's a fair statement to say that It's More Fun in the Philippines!
Check out the ongoing promos and deals from Travelbook.ph for their 4th anniversary and summer blowout: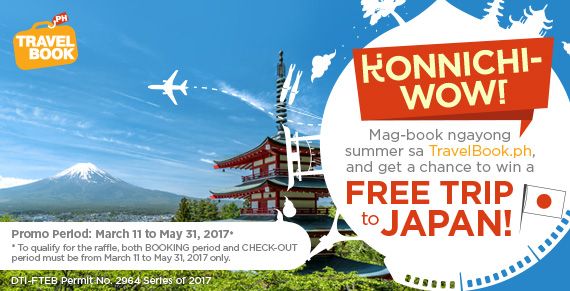 Win a trip to Japan for two with our Konnichi-wow promo! Prize includes free flight (round trip), free accommodation and pocket money! Check out the terms and mechanics here.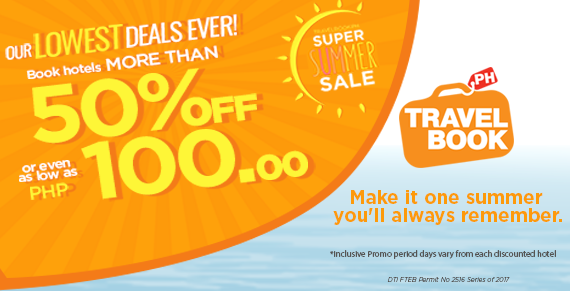 100.00php hotel booking? I say that's a bargain! Avail our highly affordable deals on hotels and resorts with TravelBook.ph's Super Summer Sale!
Four-year Milestone
TravelBook.ph established a name for itself in the OTA industry in just four years. The company's growth in e-commerce within that span of time is just astounding.
In 2013, bookings made with TravelBook.ph has increased up to 200% upon offering affordable hotel reservations. And today, over 3,200 local hotels and resorts are listed under the company's website.
What's next for TravelBookPH?
TravelBook.ph dares to further establish their brand as the only online travel agency (OTA) which promotes local tourism, highlighting the unique perks and services they offer to Filipino travelers. This includes attractive discounts, convenient payment options, exclusive reward points, and the TravelBook.ph mobile application.
The company will also be releasing the TravelBook magazine: the company's official and free publication. This aims to inspire Filipinos to visit local destinations, meet new people, and immerse in the country's rich culture.
---
To know more about convenient and affordable hotel bookings all over the Philippines, visit www.travelbook.ph.
Check out and follow TravelBook.ph on Facebook, Twitter  and Instagram for real time updates!
---
The Philippine islands holds beauties and wonders just waiting to be discovered and explored.
In celebration of their fourth anniversary, TravelBook.ph encourages you to go out there and explore the amazing places in the Philippines and gain memorable travel experiences like no other.
Take advantage of summer and explore our beautiful country with TravelBook.ph!
– Nik