Rising from humble beginnings to becoming the first winner of The Apprentice Asia, an in-demand motivational speaker to running his own marketing consultancy firm (JYCV), Jonathan Yabut has one word for his success story: Grit.
May 24, 2017 at the A Space Makati, bloggers and aspiring advisors were invited to an evening of inspiration and success stories through Sun Life Financial's "Live Brighter Session".
From Grit to Great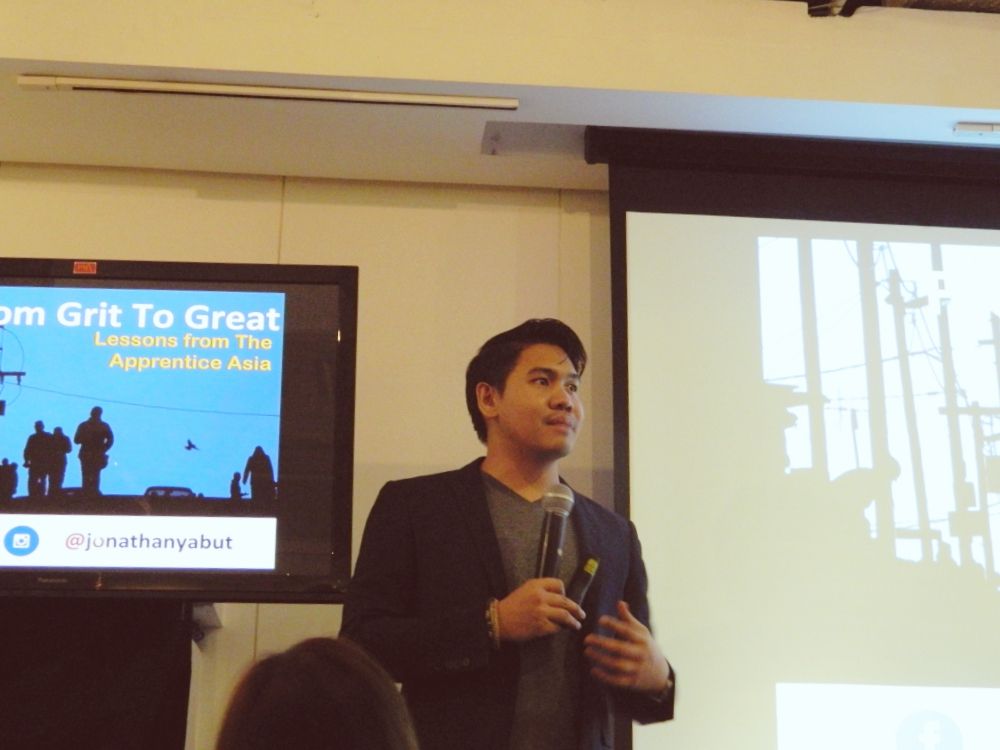 Graced by Jonathan Yabut, the Apprentice of Asia Season One winner and now the managing director of his marketing consultancy firm, The JY Consultancy & Ventures, Jonathan shares his humble story and offers his audience success tools and how to execute them.
Strike While The Iron Is Hot
First on Jonathan's list of topics was from one of a Roman philosopher's quote which goes like this:
"Luck (success) is what happens when preparation meets opportunities." – Lucius Annaeus Seneca
Mr. Yabut uses the French culinary practice mise en place which means "putting in place" or preparing all the ingredients so that when the perfect time to put them all in the pot for cooking, it'll all be ready.
Execution on time and preparation is a vital component to success.
Being Busy vs Being Productive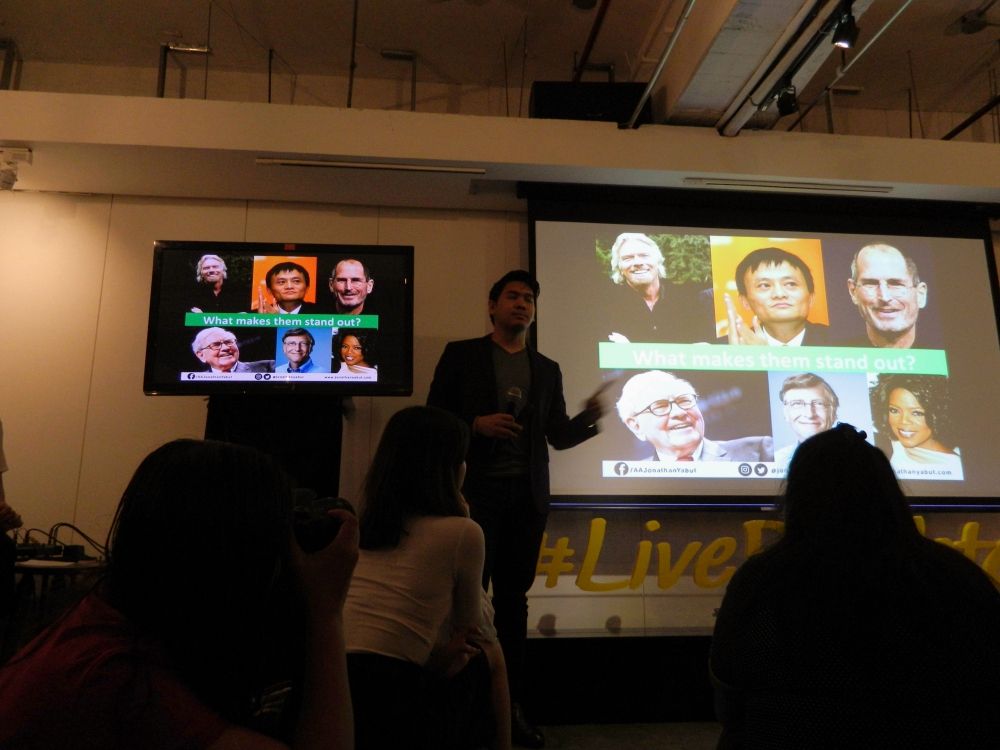 Second of Jonathan's how to #LiveBrighter list is this:
"You don't need to say 'YES' to every opportunity of success. Success also requires saying 'NO'."
As it is, there is a fine line between being busy and being productive. Having a priority where your commitment lies is better than cramming for the sake of finishing.
I think this is where most of us, especially the Gen Y / Millenials as how Jonathan Yabut puts it, falls in a pit.
We get too excited and pumped up with things, that we tend to to do a lot but not finish anything in the end. Multitasking, an attribute most of us possess and what this fast-paced world demands has limits on its own too. Science says that we can only do a maximum of 3 tasks brilliantly, other than that is just waste.
TRIAGING versus CRAMMING
We can also learn something from the concept of triage during medical emergencies and disasters most commonly used by the military.
By definition, triage means "to sort", derived from the French word, "trier". Triaging has been defined as "doing the greatest good for the greatest number" BUT triage is simply a sorting PROCESS that when applied creates a situation that allows for "doing the greatest good for the greatest number".
As Warren Buffet, Forbes' #2 from the World's Billionaire list says: "You don't have to swing at everything — you can wait for your pitch."
On Leadership and working SMART
"In order to stand out, you also need to stand back. Leadership is pullership, not pushership."
While most of us aim for a higher position or promotion, not everyone of us understand the concept of leadership and climbing the career ladder.
Leadership means making more leaders out of others; of being an instrument and representation of the people. It is driving individual contributors to a whole new level of commitment where their talents and gifts can shine brighter. Leadership is pullership not pushership.
Now being a leader and an individual contributor requires work. And this is where we draw the line between working hard and working SMART.
Jonathan gives us 3Ds on how to work smart, that is: Delegate, Defer, and Decide.
It means zooming out of what's in front of you to see the bigger picture, and zooming in to what is essential which also circles back to the 2nd point of this topic.
BONUS: The secret to success is out there: it's called, GRIT.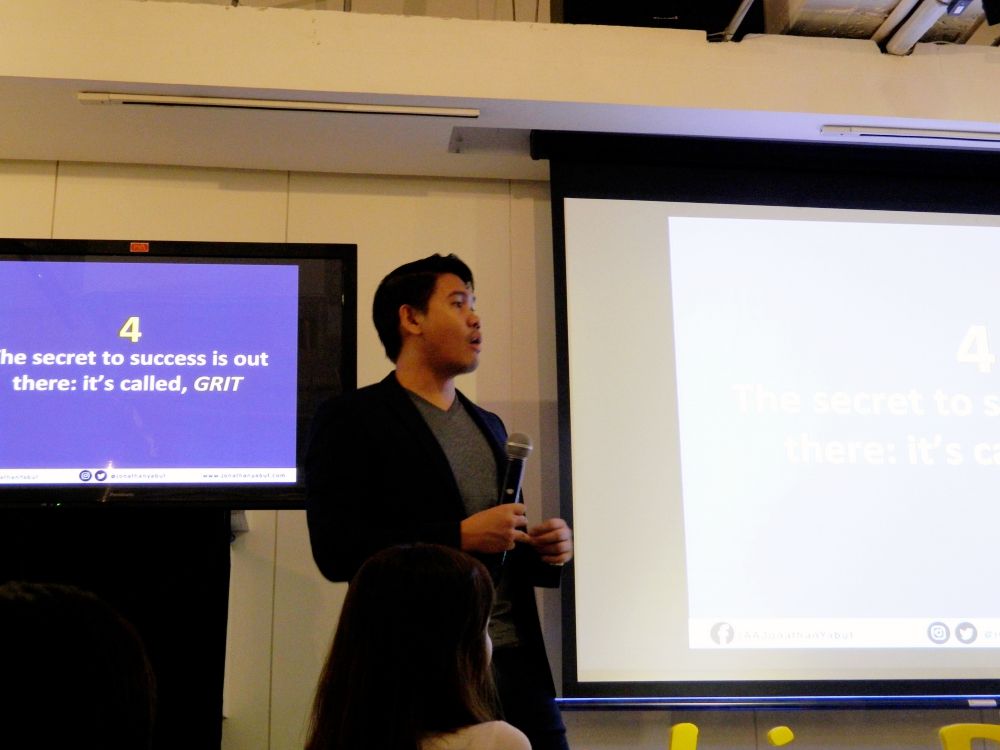 Jonathan Yabut's story, his humble beginnings and struggles is something we can all relate to. Now his success, to some is thought of as something exclusive only to him. But I beg to differ.
As Don Soriano puts it in his book Break Free (read about my review here): "The difference between an ordinary person and an extraordinary person is just the EXTRA." And I believe that extra which Don pertains is that same extra that Jonathan Yabut defines as GRIT.
GRIT: The power of passion and perseverance
Angela Lee Duckworth, a psychologist from the University of Pennsylvania speaks about how intangible concepts such as self-control and grit could predict academic and professional success.
In her TED Talk (you can watch the clip here), Angela defines Grit as: "The passion and perseverance for very long term goals. Grit is having stamina, sticking with your future day in and day out for years, and working really hard to make that future a reality."
Angela also talked about the Growth Mindset; a simple idea discovered by world-renowned Stanford University psychologist Carol Dweck which is the belief that the ability to learn is not fixed and can change with your effort.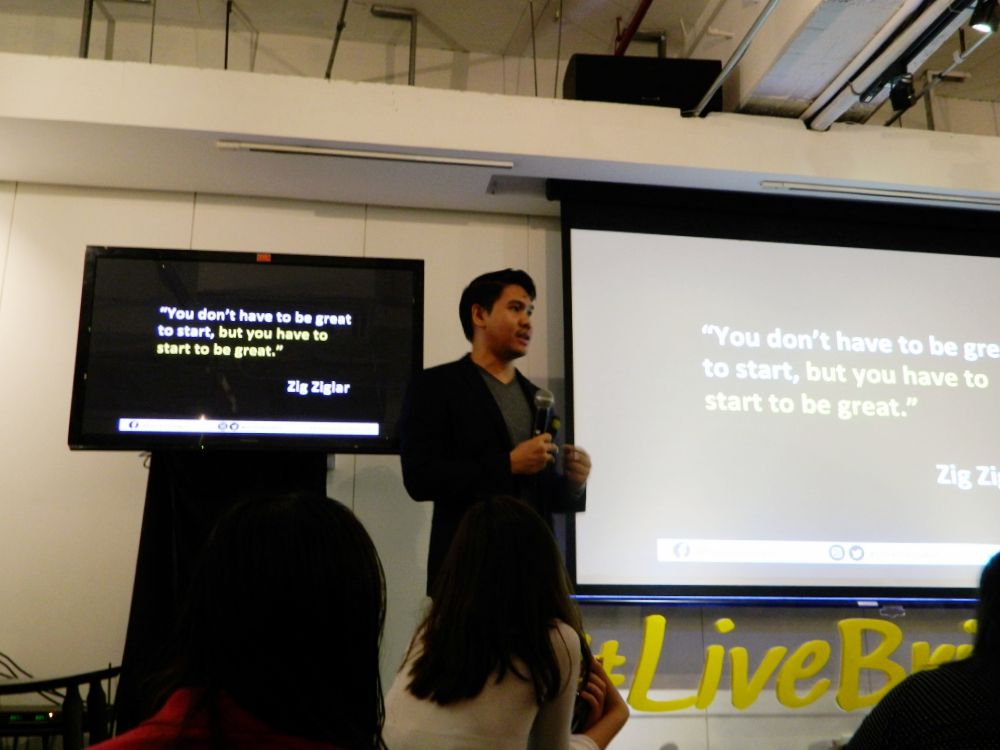 Grit is that extra component which can make your future a reality. It is simply the formula: execution + consistency = success.
Having the right mindset (to start now) and social purpose to success plus grit is really the key to a #BrighterLife.
JP Cruz's Story to a Brighter Life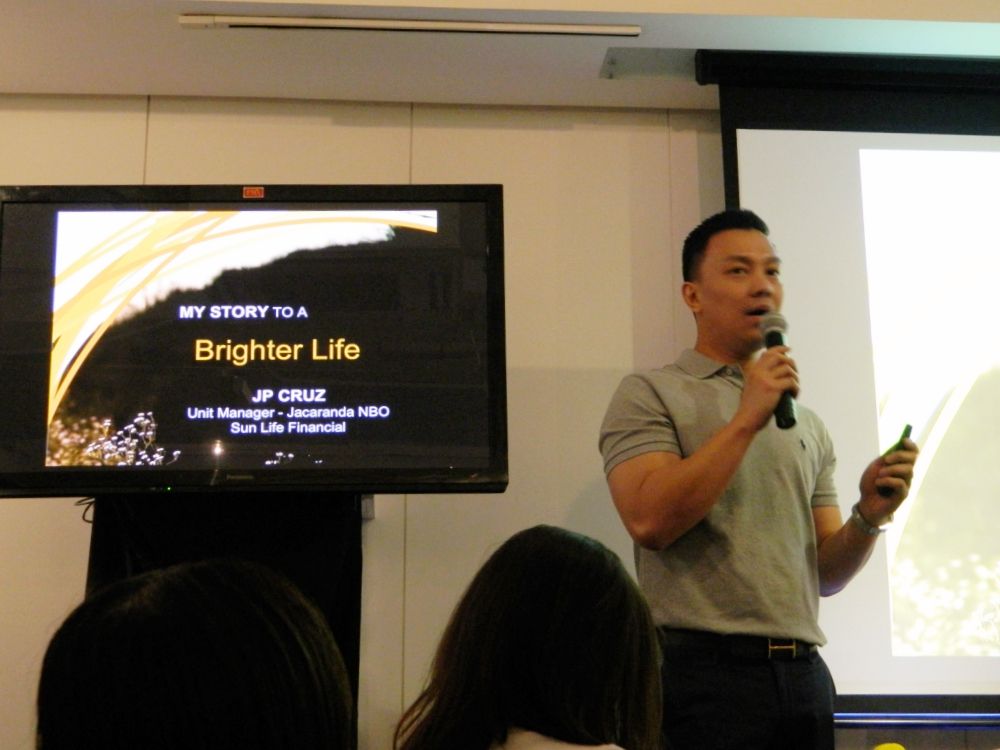 Next in our line of speakers is Mr. JP Cruz, financial advisor and unit manager of Jacaranda NBO of Sun Life Financial.
JP gave his audience an inside look at his own career and personal journey. He spoke about how he reached rock bottom in both his finances and love life, and what he did to overcome the struggle.
Now a successful Sun Life advisor, JP interestingly stressed a thought akin to what Jonathan Yabut emphasized: that is to have a deeper reason for the work one pursues. In his case, JP finds it by helping people achieve lifetime financial security.
Wrapping up with an Open Forum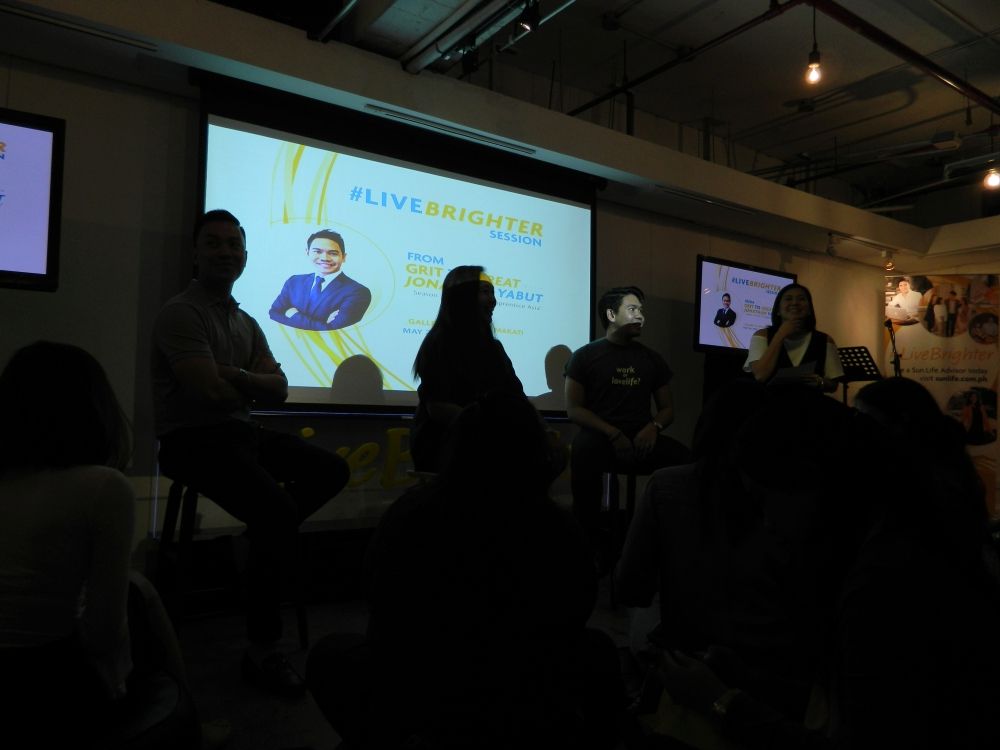 The talk was wrapped up with an open forum where the audience get to ask any of the three up front. A same tone of question were among the crowd, where I also personally got to ask (lastly) Mr. Jonathan Yabut a co-Letranite of mine.
The LiveBrighter Session Experience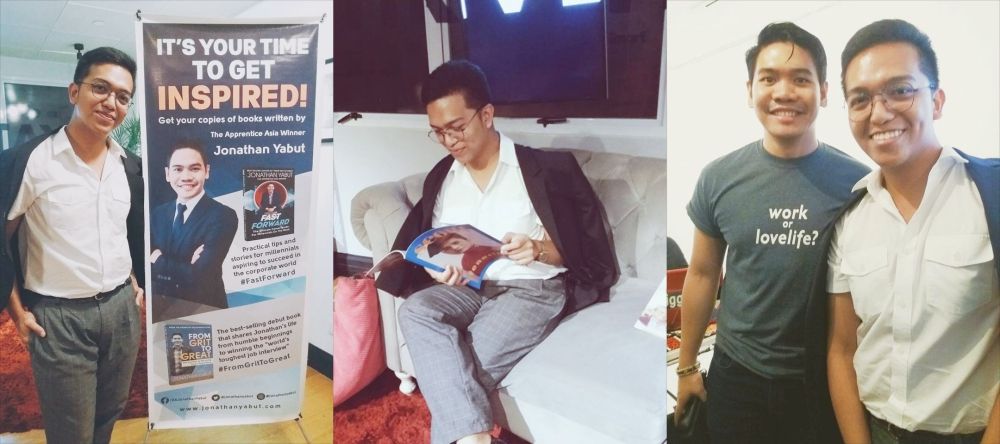 It was a surprise that I was picked as one of the bloggers to attend this event, especially being graced by my schoolmate and now a big name in the workforce, Jonathan Yabut. I had to prepare real early but made sure that I experience this once in a lifetime opportunity.
Sitting (comfortably, if I may) with the audience my age was an eye-opener of how amazingly millenials are gritty in many ways but doesn't know how to properly channel it to success. It's wonderful to have talks as such from those who have gone before us in the field to give advice and motivate us to make our dreams a reality.
---
"Live Brighter Sessions" are set to be held in Cebu and Davao. For more details, follow @sunlifeph on Facebook, Instagram, and Twitter. Interested to become a Sun Life advisor? Visit bitly.com/sunlifeadvisor to learn more.
---
Now I don't know about you, but I'm wearing my Grit face on, and ready to build my empire!
Until next time! Stay caffeinated!
 – Nik.