It's that time of the year again! When one (or two) gets their systems fuelled by caffeine more than once, perhaps, to get that prized journal!
Starbucks Philippines have long since been giving its Filipino customers the thrill and feels of Christmas through their holiday drinks, blends and of course their journals.
Kicked off last weekend (October 29 and 30) at The Grand Atrium in Shangri-la Plaza, Starbucks Philippines Christmas Grand Launch 2016 opened a mini-Christmas village with fun-filled activities for all its My Starbucks Rewards members.
Upon entry, you will be given a Passport (for the activities) and the Starbucks Christmas Traditions Promo Card with one free sticker (so that's less one of the total that you have to collect).
Upon completion of the 5 Cheer Station activities (Christmas Selfie Challenge, Sips of Cheer, Flavors of Christmas, Celebrate our beloved Christmas Blend and Crafted by Hand and Heart), you'll get a surprise from Santa's Gift Box! Mine happened to be a red and silver Starbucks pen (no biggies, knowing that there were a couple of tumblers, journals, aprons and other cool stuff). I wasn't really good at picking prizes from a box. Ha-ha!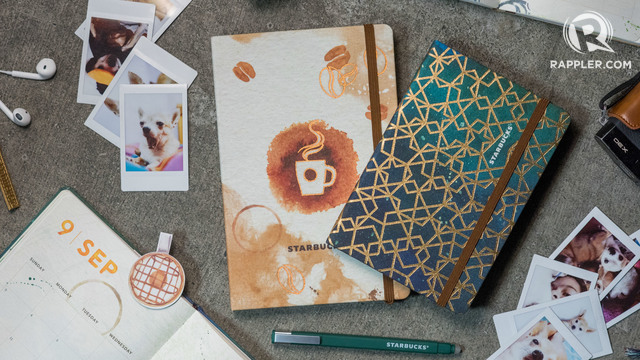 We also got a preview of the new Starbucks Philippines 2017 Journals which comes in 2 designs – decide whether you are #TeamCoffee or #TeamSiren
The 2017 Planner also comes with a pouch (whose design is based on your planner design of choice), an erasable pen (well, it erases what you write with the pen), a magnetic bookmark (multi-purpose use), a sticker mat (cutesy stickers they are) and of course vouchers for your monthly perks! The planner also comes in two sizes – regular and mini.
To all the avid Starbucks customers out there – you know the drill. But for those who are collecting this for the very first time (where in the world have you been), here's the mechanics:
Starting today: November 2, 2016 to January 8, 2016, you may avail the Starbucks Christmas Traditions Promo Card; no purchases required.
To start your journey, you will need to accumulate a total of eighteen (18) stickers to redeem one (1) Limited Edition Starbucks Coffee 2017 Planner.
Note that one (1) sticker is equivalent for each Starbucks handcrafted beverage purchase.
You will need 9 stickers of Holiday Featured Beverage (this year's flavors are: Toffee Nut Latte, Peppermint Mocha and Santa Hat Dark Mocha – can be hot, iced or frappucino blended beverage) and another 9 stickers of any Starbucks core beverage of your choice (except bottled drinks, bottled water and fruit juices) for a total of 18 stickers.
You may use up to two (2) promo cards, provided that the 9 featured beverage and 9 core beverage have been purchased (just total it out amongst the two). Any excess stickers will be forfeited.
---
Special notes:
Promotion

starts on November 2, 2016. Stickers may be obtained from November 2, 2016 to January 8, 2017.

Redemption

of the Limited Edition Starbucks Coffee 2017 Planner starts November 2, 2016 up to March 9, 2017, at Starbucks stores in the Philippines only.
---
So, that's it! It's time to get your friends some free drinks (or officemates in my case, as I have for the past 3 years), complete those stickers and be one of the firsts to get your hands on the Starbucks 2017 Planner!
Just make sure you can handle all that caffeine, all right. You may take it easy though, go on your comfortable pace, and as long as your wallet permits, then by all means. *winks*
Spread the holidays cheers y'all!
For the complete mechanics, visit Starbucks Philippines' Promotions website here.
Till next time!
Stay caffeinated!
– Nik