The millenials are one of the key drivers in pushing limitless possibilities in our workplaces and nationwide economic growth.
But while this new breed of energetic and creative individuals harness a greater purchasing power in the market, the risk of falling into poor money management and trap explained in Parkinson's Law is high; then the cycle continues.
Don Soriano offers a guide towards Financial Freedom to newbie Filipino Entrepreneurs in his book Break Free. Check out the 8 Principles that Don shares and break free from your situation towards success!
The First Thing
For us who does not have an extensive knowledge about business, entrepreneurship and a wide array of jargons that goes along with it; going into business and reaching success entails a great deal of money for start up, a big network of influence and massive knowledge on this field.
While some of these are facts, we all have to remember that every successful person in business or in their chosen field of endeavor started out just like us, small persons who dreamed of becoming of significance to the world.
As Don puts it in his foreword, "I'm just like you. Not similar. Not different. Exactly the same." – Don Soriano (2017), The First Thing, Break Free (p.2).
To achieve financial freedom, you have to be open to learn and share these learnings amongst your circle. This will create a ripple effect and in turn, we will be able to see a better, empowered Filipino people.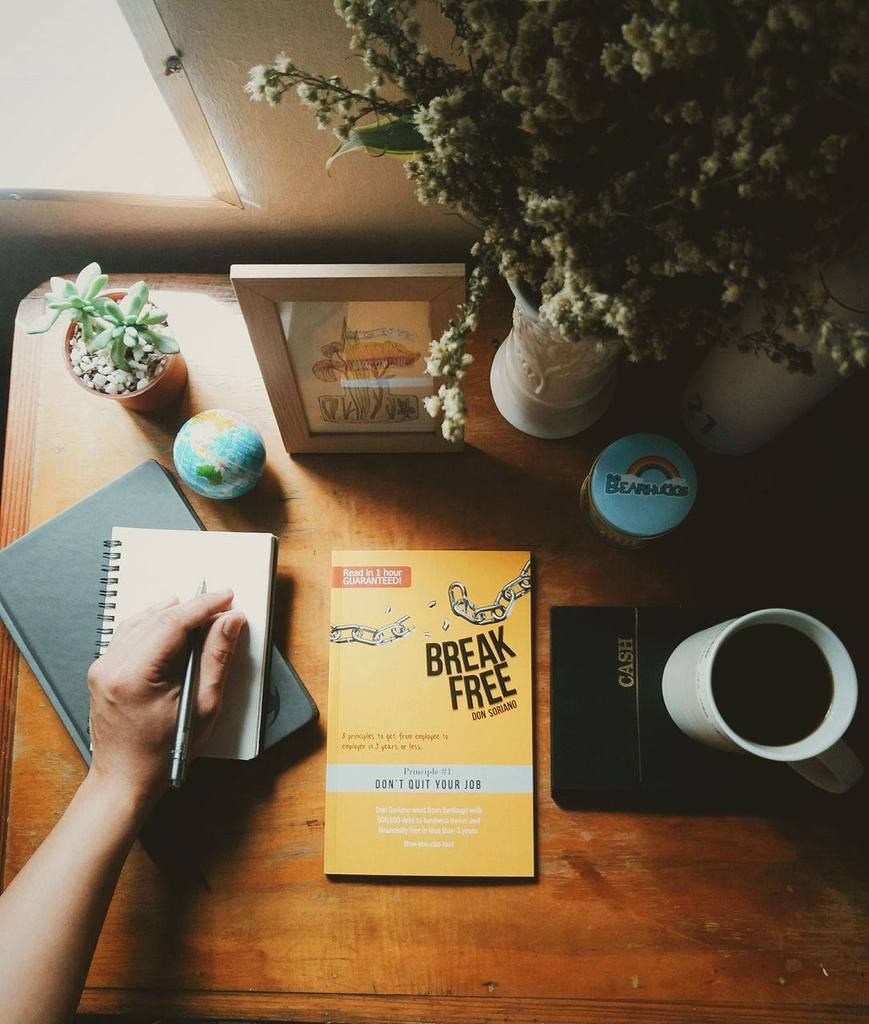 The 8 Principles to Break Free
The first and most important of all is: Don't Quit Your Job (not yet, at least).
In this book, Don explains why you shouldn't quit your job, yet, what you should be doing while keeping your job and when you should quit your job.
His insight about this facet to financial freedom is what most of us have in mind. And his personal experience about such, mirrors our struggles in wanting to become our own bosses; to have more time, more money, easier life. Which is a wrong mindset to start with. Mastery of yourself is the way to do it. "If you can't master yourself, you can't master the world." – Don Soriano (2017), Break Free Today, Break Free (p.77).
Don also shares how to Make the Best Investment (p15), Money Management (p23), Power of Leverage (p33), The First Step to Business (p43), Law of Association (p51), Understanding Financial Freedom (p57), Success Is Only 20% Skill (p67) and Break Free Today (p75).
Key takeaway
As a budding individual and millenial (at 24) who still has a lot to learn and hungers for growth and significance, this book is an eye opener.
Its honest-to-goodness content and Don's personal experience and story as a struggling individual in this competitive world is something that we can all relate to. His straightforward insight and courageous commentaries on people's excuse that blocks them from reaching their full potential is truly note-worthy.
Notable Quotes and Phrases from the book
"The mind that got me in this situation I was in, wasn't the same mind that takes me out of it."
"They say that experience is the best teacher. I disagree. The experience of others is an even better teacher. It's less expensive. Learn from my mistakes so you won't have to make them."
"… If that's not your cup of tea, then you can work on your job during the day and build your empire at night."
"Success as with anything is a learnable skill. It's something you can work on daily to achieve the life you want."
"What separates successful people from unsuccessful people is that they do the work that no one else wants to do in spite of being afraid."
And the list goes on, I actually still have several phrases highlighted in my book but I recommend to get one yourself and make it personal. It'll help you big time.
Break Free Today
Meant to be read in an hour, this book is handy for those who are always on the go. And for everyone who works in lives in the cities, with the traffic situation out there, you may read and learn more from this book within your commute hours. Make every minute count.
---
Get your own copy of Break Free by Don Soriano by following the steps below:
Fill out form completely https://goo.gl/forms/vhK3i8wKp0zALbj72
Deposit education investment to BPI (Savings Account) Account Number: 1909152638 Don Lorenzo P. Soriano
Email picture of deposit slip to donpsoriano@gmail.com
Subject: (Full Name)

Indicate Address and Contact number in your content as well.
For more information follow and like Don Soriano's Facebook Page here
---
Millenials, readers, make a decision today and start climbing your way to Financial Freedom. Always remember that the best day to start is TODAY!
Till next time!
Stay caffeinated!
– Nik